TAPERLOCK FOR AXIAL ADJUSTMENT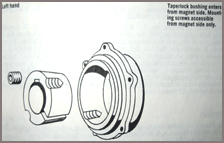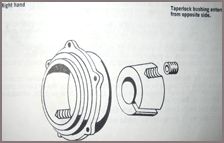 Taper lock is used in sakar series clutch or sakar series brake

General information about taper lock

Taper lock is basically mounting arrangement for armature plate (or magnet body). Taper lock bush works on simple static friction principle (wedge action). Therefore keyway is not required to mount brake on given shaft. By rotating screws provided on taper lock bushing, one can tighten up taper lock bushing on the shaft and vice versa.

Advantage of using Taper lock

Imagine that there is 8 feet long shaft of uniform diameter. This shaft has no keyway in it. And on this shaft one has to mount our sakar series brake. Also brake is required to be moved axially and mounting position of the brake is not known. Here taper lock is the best solution. One can mount our sakar series brake anywhere along this 8 feet distance. Please note that to mount sakar series brake , keyway is not at all required on shaft.

It is well known fact that friction disc of clutch / brake wears off during normal operation of brake / clutch. Therefore periodically one has to adjust air gap between magnet body and armature plate. This air gap adjustment becomes very easy with taper lock.

For more information on clutch brake combination with pulley drive mounting arrangement, kindly contact us.