Training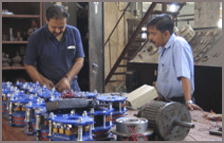 ( Managing director Mr.Amar Pethe shown on left side is ensuring highest quality standards in our training / technical know how department.)


Proper installation and deep knowledge of technical functionality is very important for optimum performance and trouble free long life of our products. In simple words our customer must have deep knowledge about proper installation procedure, periodic repair / maintenance tasks. Therefore knowledge of mechanical engineering as well as knowledge of electromagnetism is a must.

Many times improper installation or not following proper maintenance procedure is found be cause of all the problems.

Electromagnetic clutches and brakes and other related products require deep know how and technical skills.

We offer regular training session, workshop, shop floor assistance to our customers. Our customers regularly send their service engineers to us. At our manufacturing factory we have separate section for all such trainee engineers.

Our engineers in this section with many years of experience and extensive application know-how are best suited for this kind of a teaching-job.

For more information on training at our manufacturing unit, kindly contact us.